We all know: snow has always been rare in most northern areas of Germany. Michael knows that, too, of course. And that's why, when the longed-for white flakes finally came down from the sky, it was perfectly clear to him that he had to act immediately.
In his lunch break, he got out the QUADRO sled that he had recently built for his two daughters - and then it was to go off. There was just one small problem:
The sled didn't run.
A thinking error had crept into the model. So that all girlfriends of his two daughters could ride along, he had wanted to make the vehicle somewhat larger. And wider - after all, it shouldn't tip over. To ensure that the sled remained stable, Michael installed cross braces. And this was the crux of the matter: While the remaining tubes, which had contact with the ground, ran longitudinally and gave the vehicle momentum, the ones in the transverse direction braked rather: after just a few meters, a huge avalanche of snow had built up in front of the sled.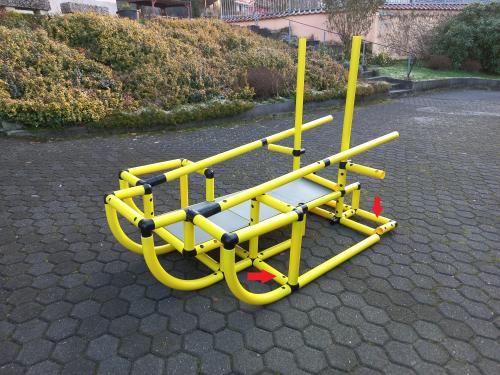 What to do? There were only 55 minutes left before Michael was supposed to get back to work.
There was no way around moving all the cross braces up. However, that's easier said than done: once such a sled is assembled, you have to loosen all the screws again. A predicament: The snow was there - who knows how much longer - and the children wanted to ride. Michael had no other choice, he had to come up with something. He briefly considered how to rebuild the vehicle and realized that parts were missing. Oh no.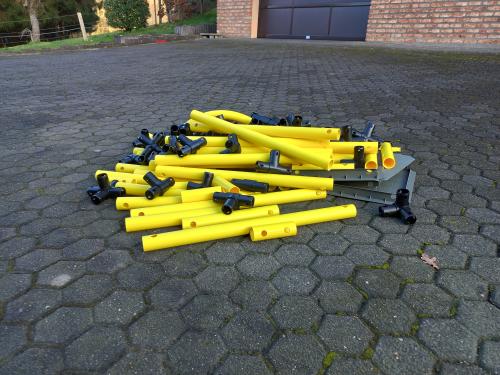 The dad rushed to the QUADRO vehicle and the trailer, which he had constructed not long ago, his young daughter running behind. She looked at him with horrified eyes as he removed some parts from the imposing constructions.
"Don't worry, we'll get them back together," he explained hastily. "I need the parts."
In a heave-ho, he redesigned the sled.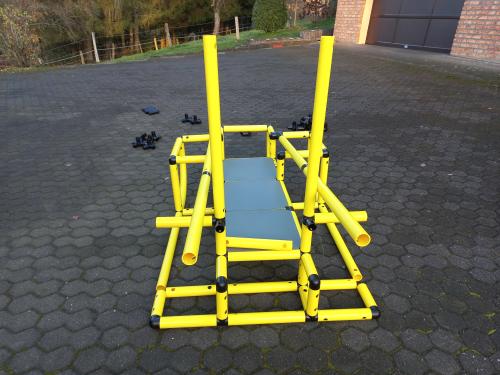 And then came the daring idea of his big daughter: driving down the mountain could anyone. But she liked to be pulled by the car. Since one is clearly faster on the road, she said. Since the family lived in a remote place in the country where there was little going on, they could afford such actions. In addition, the father had remained in the heart still child and made with something like that with pleasure.
The sleigh ride began: First very slowly, then a little faster - and when the two girls called from behind "Still a little faster!", Michael gave some more gas. A lot of fun!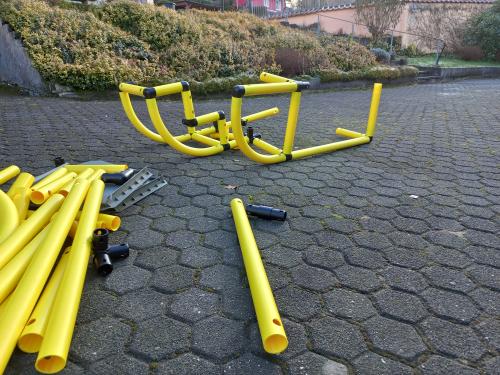 For the weekend, all the white was gone and the three were glad that they had taken the opportunity by the scruff of the neck. But as soon as snow should fall again, they want to drive all the hilly cow meadows that are in the area with their sled. But then they will take all their friends with them.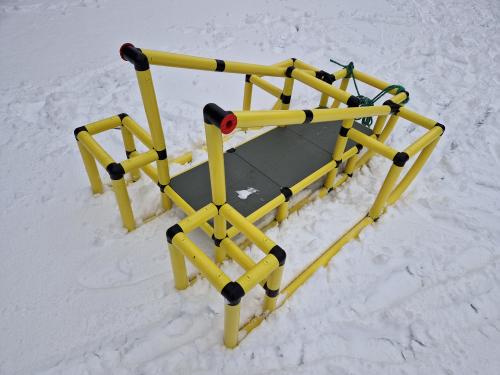 And the initial misconstruction? Michael may have been annoyed by it at first - but we're glad it happened that way, because otherwise such a nice story wouldn't have come out. Besides, we know that creative people fail from time to time before they create something really cool.
In this sense: We look forward to Michael's next failure - but even more so to his next success and will of course report back. Until then, feel free to read through our article on creativity (Two plus three is purple) and get active yourself. And always remember: failure is encouraged!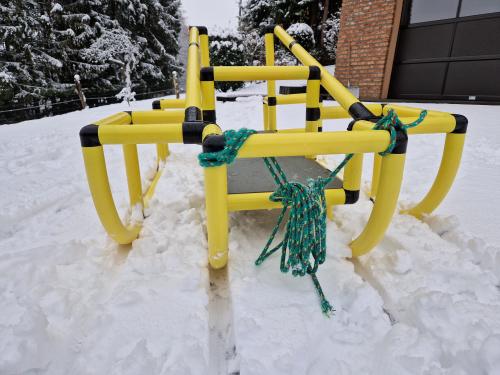 And be sure to read our other wild sledding story: "With QUADRO to Olympia".
Last, but not least, here's another creative idea for a sled from QUADRO model database.
Disclaimer: Attaching a sled to a car is not recommended for imitation. Fathers who do so act entirely at their own risk. A prior discussion with the mother is strongly recommended.
Note: QUADRO individual parts placed on the ground will permanently visible scratches and other signs of use after use as sled runners.
Do you also have really wacky ideas, that you would like to realize with QUADRO? Then write us an email: [email protected]. If we like your ideas, we will be happy to support you with free material or a discount.
We look forward to your submission!
*Carpe diem: Latin for "seize the day."