When Ida caught sight of a QUADRO construction at a friend's house, her response was an emphatic, "I want one too!" Her wish was granted. Her father, Michael, is more than a mere enthusiast. He's a skilled hobbyist and a creative thinker with a wealth of unusual ideas and considerable QUADRO experience under his belt.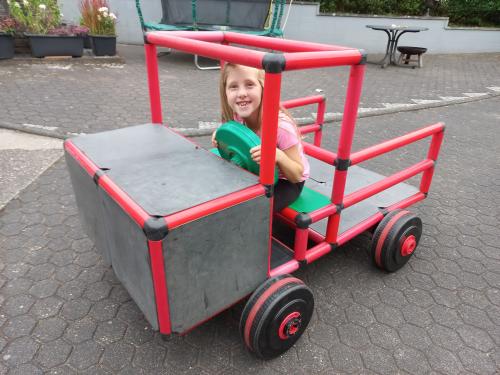 The journey began a decade ago with five QUADRO pipes he'd found at a flea market. Quickly realizing these wouldn't suffice, he purchased a QUADRO kit. Then two. Then three. Before long, he had accumulated five kits.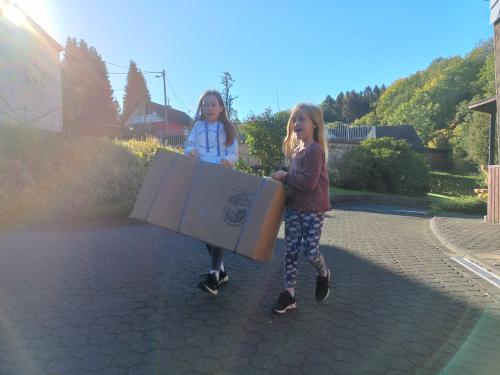 When his daughter requested a jungle gym, Michael knew it couldn't be just any run-of-the-mill structure—mediocrity has never been his style. After reaching out to QUADRO with his imaginative concepts, we were instantly sold and supplied him with the necessary components. The fruits of his labor? An impressive vehicle with a trailer and an airplane.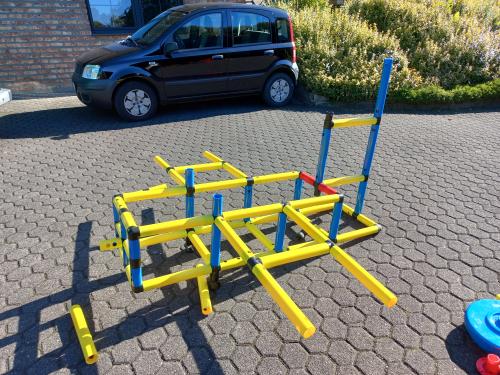 This isn't just your standard plane, though. As a trained industrial mechanic, Michael's precision is paramount. To meet his specific needs, he even invested in a drill to modify the parts. His airplane is made from unique tubes unavailable in the QUADRO Shop. He used 30-centimeter tubes, while QUADRO offers 25- and 35-centimeter tubes.

"Why this specific length?", we asked the passionate craftsman. The answer was quite straightforward: the screw holes on the standard tubes would have interfered with the propeller, so he trimmed them down. This alteration prevented insects from getting inside and gave the structure a sleeker appearance. To ensure frogs couldn't take up residence inside the tubes—an issue he's encountered before—he capped the tube ends. After all, the plane is a backyard centerpiece that regularly turns heads of passersby.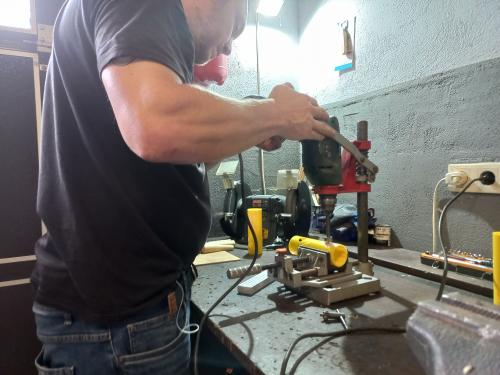 The crowning feature of the plane is the rotatable propeller, which was cleverly constructed from two 5-way connectors and a 10-cm tube. Michael's two daughters, Lena and Ida, were his eager helpers, and they're now QUADRO experts in their own right. They can distinguish between a 3-way connector and a T-Connector, indicating the next generation of QUADRO builders is on the rise. 😊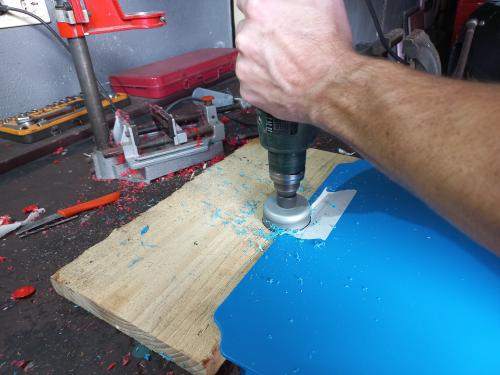 The plane's wings are reinforced, allowing children to sit on either side without causing any bending. Although they haven't tested this feature yet, they're planning to soon…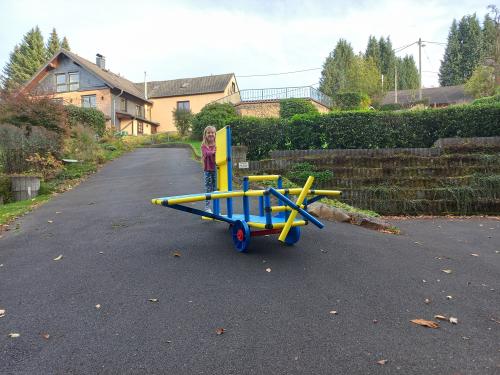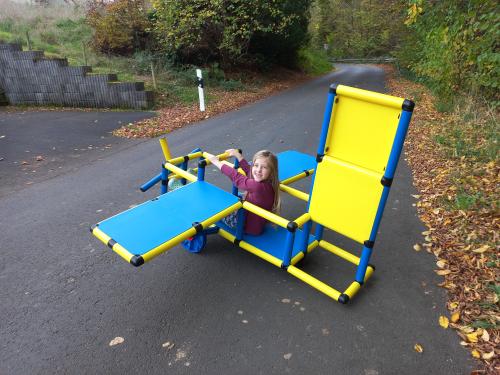 Yet, the true masterpiece of the project is the car with the attached trailer. With big sister Lena acting as the driving force at the back, Ida rides inside. When friends visit, this vehicle becomes an absolute hit, with everyone clamoring for a ride. It's robust enough to hold eight kids at once.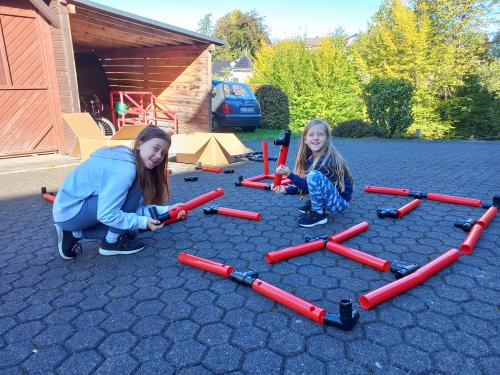 To ensure the frame's stability, Michael ingeniously utilized a long broom handle—twice the length of the 80 cm QUADRO wooden profile. Originally, it was just loose in the tube, but after adding QUADRO screws that reached inside, the broomstick fit snugly.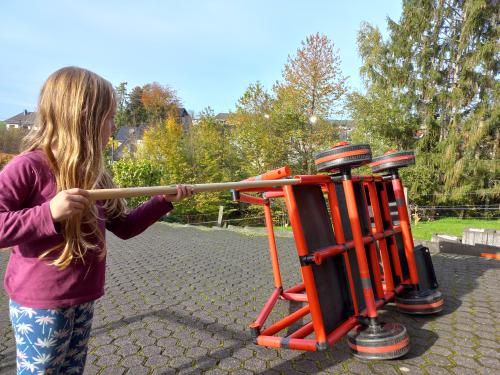 Michael fashioned a trailer hitch from a 4-way connector, enabling the children to drive the vehicle as quickly and far as they wish.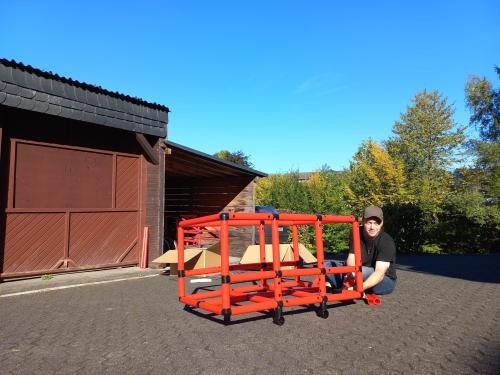 For those sharp-eyed readers, you'll notice from the images that Michael has repurposed many parts from the 80s, when QUADRO was produced only in red and black. It's astounding that these components are still functional and getting a second life. Even Michael is astonished by the durability of the QUADRO materials, which he's also incorporated into his own projects, such as creating a scaffold for a car trailer. With a tarpaulin thrown over it, transported items remain dry and secure.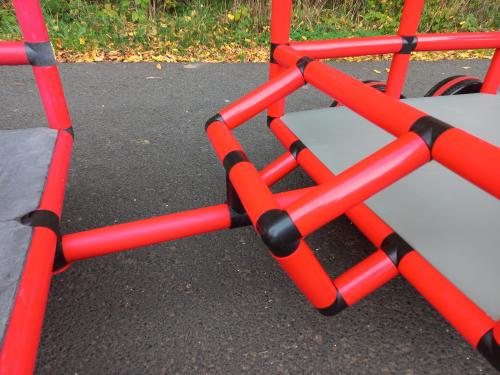 Crafting these intricate structures isn't a hasty process—it requires hours of labor and deep thought. Complex challenges often arise, but when Michael finds a solution, his joy is palpable—as is his children's, who reap the rewards of their father's ingenuity.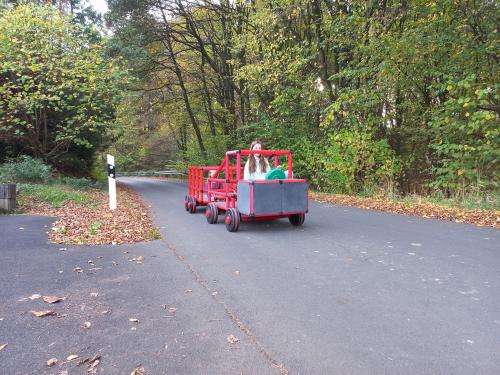 Michael is a staunch QUADRO aficionado and is already brimming with fresh, extraordinary ideas. We eagerly anticipate what he'll unveil next and, of course, will continue to assist him with materials as needed.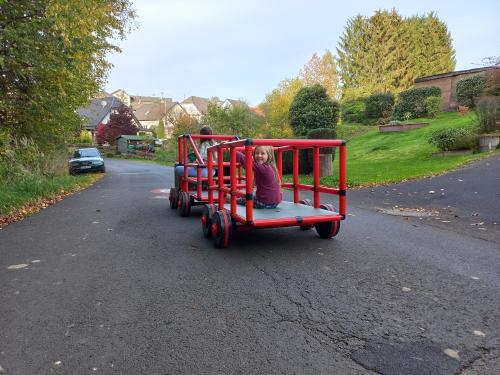 For those intrigued by these constructs, feel free to browse his QUADRO videos. If you're curious about more inventive dads and their creations, check out our stories, "Building Around the Corner with QUADRO" and "Pretty Edgy. QUADRO Accommodates Uncommon Design Features."