Sabine is something of a QUADRO pioneer – her QUADRO is almost forty years old now – and it hasn't lost a bit of its charm. Or its stability.
How did it all get started? She got her very first giant construction kit when she was two, and – how could it be otherwise? – she was thrilled. But she wasn't the only one. Her Dad was fired up too, so it didn't take long until they had a second construction kit: Christmas is always a good opportunity to stock up on toys. 😊
"My father was a freestyle designer. He never followed the instructions." And that's a good thing! Because that's why Sabine – and later, her two sisters – had a unique QUADRO structure in their home that couldn't be found anywhere else. The three girls were happy as could be. Their father was very creative and built a playhouse with a slide in the yard and a treehouse with a railing in the plum tree. The three girls used the treehouse up to the day that the tree rotted.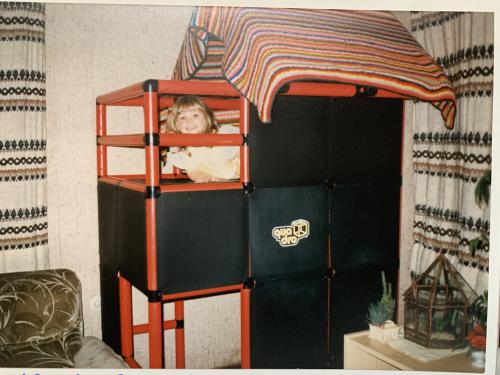 "But what I loved the most was the Princess' Castle in the living room," says Sabine. "With a ladder inside and a balcony." A balcony, of course, is quite important, because where else would a princess address her subjects?
Her imaginative Dad used the rest of the QUADRO kit to build a bookshelf.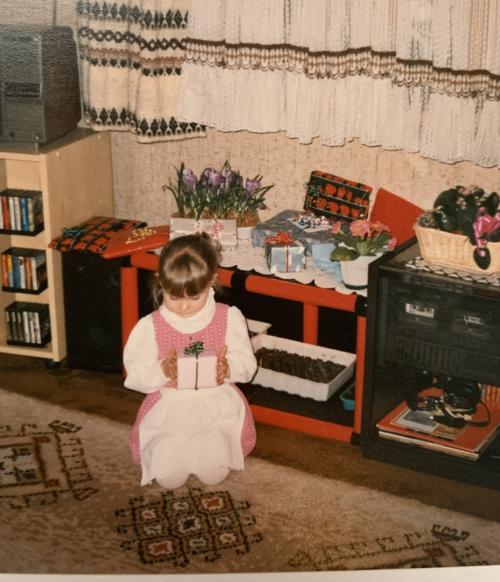 But over time, the QUADRO castle was left behind and became still, like the home of Sleeping Beauty: the children got older and grew up eventually and forgot about the old QUADRO. But one person didn't forget: Mama. One day, after Sabine had also become a mother, she took her up to the attic where the family had stored the QUADRO for decades. The two women just had to brush off the spider webs and it was just like new. They put it up in the yard. And of course the grandchildren were excited. But they weren't the only ones! Mama and Grandma were also happy that their QUADRO was still so robust – and that they could combine it with the new kits.
"That's what I call sustainable," says Sabine. "Everyone is talking about sustainability. And QUADRO has been following this principle for decades!"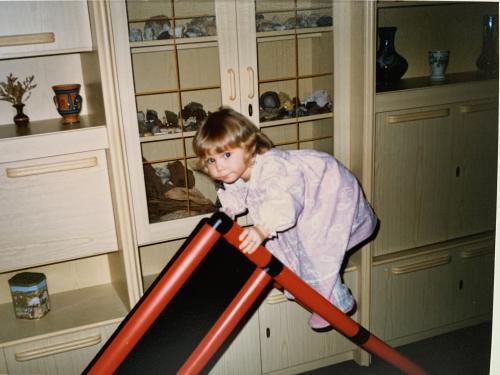 She thinks the new Home colors are super because since she became a mother, her house is quite colorful. That's why she's glad that QUADRO jungle gyms now also come in pastel colors that she likes as well as the children do.
One day, Sabine and her son sat down together and paged through the old photo albums. And they came across the photos of QUADRO from days gone by. "Now my son would like a Princess' Castle too!" she says, laughing. "This little guy has lots of imagination and ideas and he definitely wants to help with construction."
We wish the pint-sized builder lots of inspiration and we're happy that Sabine shared her story with us.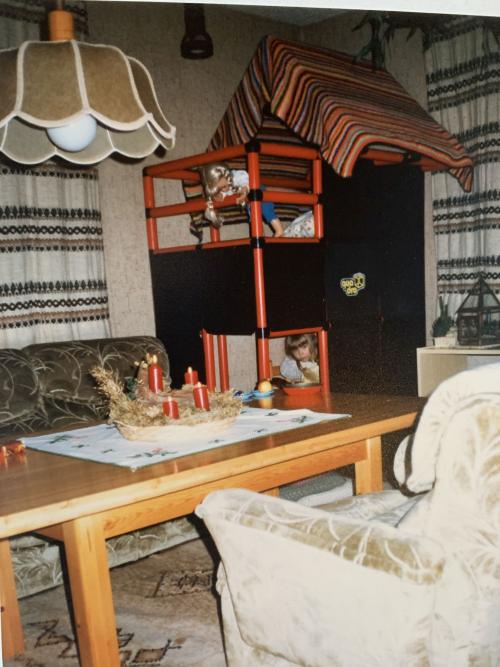 Do you still have old photos and interesting stories that you'd like to tell us about? Please write us an email ([email protected]). We look forward to hearing from you and maybe even telling your story! Of course we're happy to provide you with discounts or free products for especially fine photos and stories.
If you think stories about old QUADRO are super, read this article too: From our Photo Album: QUADRO never Rusts.