There is a construction site on Sandra's property: the terrace is being redone. In itself not earth-shattering - if there were not two dogs that would like to run. Run a lot, since they always have to be on a leash when they're out. But running means work. Eight muddy dog paws run across the muddy terrace into the house. And out again. - Sandra could not keep up with the wiping. And had a bright idea.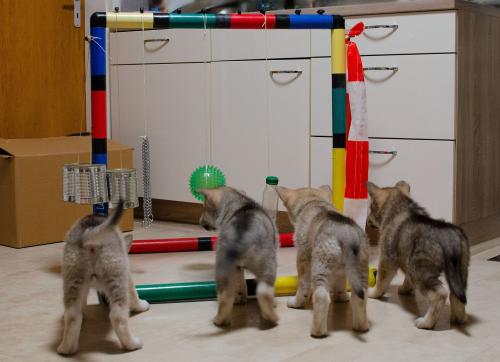 "What are you doing?", her husband Bernd asked her when he came home from work.
"I'm building a barrier because I don't have the time to clean all the time."
"Hey, I'll help build it!"
This is how perhaps the first QUADRO dog barrier was born. Sandra's everyday creativity in this case was to use the climbing toy she had originally bought for her three-year-old son Felix in a completely different area to create something useful.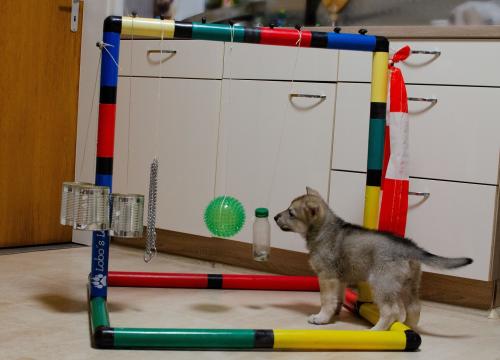 But that was just the start of even more creativity.
"Shouldn't I build something for the puppies, too?" said Bernd.
Dexter, Sandra's dog, had recently become a daddy. As a stud dog in the German Kennel Club, the Saarloos wolfhound had sired offspring with a breeder's bitch: lots of little puppies who want to discover the world and be prepared for it as well as possible.
Bernd built a rack with the QUADRO computer program, on which they hung everything that the little ones might encounter while walking: old rattling tin cans, from which they had previously ground off the sharp edges; chains; bottles filled with stones; hedgehog balls; flutter tape.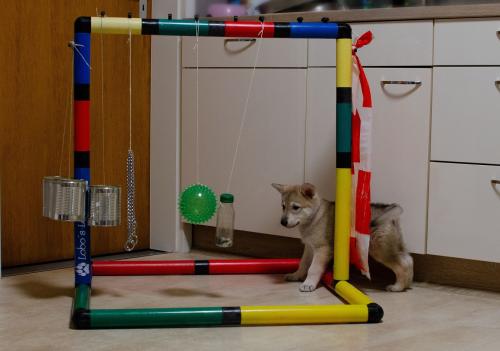 Many dog owners know it: If they walk their dog and come across a flutter tape, the dog bristles, is maybe frightened, because it does not know such a thing, makes a wide arc or full of panic refuses to go past it. The same applies to balloons that have been hung up for a birthday party, or flags where chains bang against the pole. Therefore, the motto is: the more noises the puppies are exposed to at a very early age, the better.
The little Saarloos wolfhounds looked funny at first when they saw the QUADRO construction. But then they began to play: They tried everything out, pulled on the flutter tape so that the light scaffolding moved with it and the cans rattled. A lot of fun!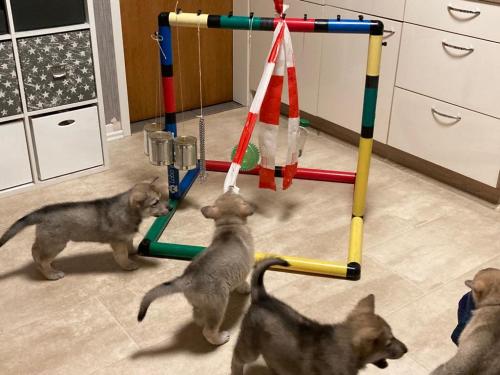 Sandra hat also a lot of fun with their adult dogs: By chance, they have become dog stars – everyone wants to have a picture with them. At first, her dog Finja was photographed, then joined by models who found that a wolfhound would fit well with the theme of the photo. Or to the outfit that had just been created by a designer. So Sandra was with her dog on some shoots - actually unusual for this breed, which is rather shy and reserved and does not like to be touched by strangers.
Then, however, the animal grew up and became more typical of the breed: From then on, Finja did not like dealing with strangers. Which is perfectly fine, because the two had done it just for fun. When the male dog moved in, they continued - he had no problems approaching strangers. By nature, he's half Labby with the motto "Hi, here I am, cuddle me!"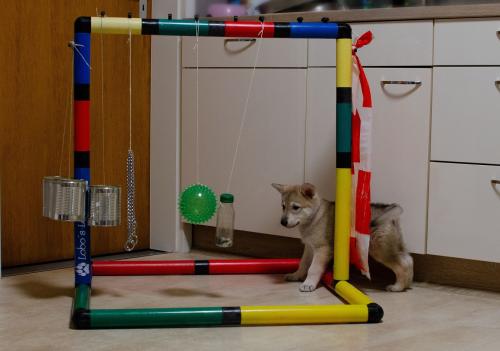 So Sandra drives with Dexter to appointments in fields and meadows, sometimes at castles and palaces, has shootings sometimes in medieval, sometimes in fantasy style. Model and photographer are always thinking up themes to which a wolfhound would fit - so they have great pictures in their portfolio. Only Little Red Riding Hood, Sandra doesn't like anymore. She wants more variety.
But she still reads the fairy tale to her little Felix.
She has been thrilled since she discovered QUADRO for the little one. Even before she knew QUADRO, she decided against a wooden frame, because that would have been very high-maintenance and therefore time-consuming. QUADRO, on the other hand, is simply rinsed off or cleaned with a high-pressure cleaner. That's how it should be! She is amazed about all the possibilities.
And we, we are curious, which creative QUADRO ideas Sandra, Bernd and Felix will have in the future.
QUADRO and dogs just fit together. This is proven by these two articles: Even puppies love QUADRO and A good deed for a piece of sausage.
Do you also have a great idea and would like to be supported by us? Then write to us anytime at [email protected]. We look forward to hearing from you.