Diving into a ball pit isn't just every child's dream, but that of many adults' as well – there's a trendy cocktail bar in London whose main attraction is two giant ball pits.[1] But it isn't just humans and human children that enjoy playing in a pool full of balls; young animals also love to take a swim of a different kind. And since we're talking about QUADRO products, the fact that they also learn something in the process pretty much goes without saying.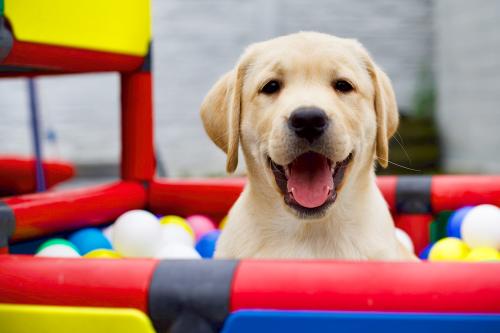 André Weber is a passionate breeder. In 2016, he decided to get into the business with his female Labrador Hedda, who had won titles at several European dog shows. Unfortunately, it turned out that Hedda has an anomaly in her elbow and isn't fit for breeding. But André didn't give up, and soon two more beautiful females moved in with him, Hazel and Hanni. With them, a litter was sure to be right around the corner...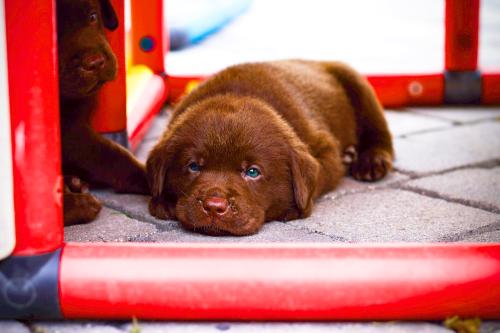 Now anyone who has children knows that youngsters need to be kept busy. And as parents, we want our children to develop in the best way possible. It was no different with André and his puppies. So before they were born, he did some research on larger toys for the little ones and found exactly what he was looking for – a puppy castle! He reached out to his sister Jacqueline, who had a lot of experience building structures with QUADRO, and told her about his plans. She immediately agreed. She had already designed, assembled, and reassembled many different QUADRO jungle gyms for her son – the puppy castle was just the challenge she was looking for.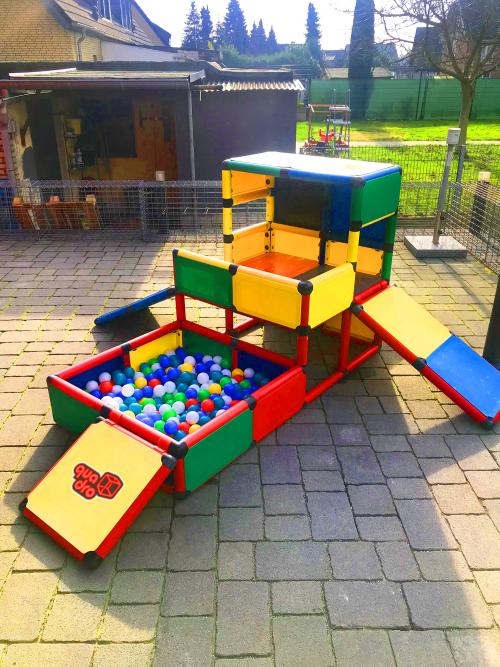 No sooner said than done, and André and his dogs were able to enjoy the colorful structure with a tunnel, two ramps, and the aforementioned ball pool. The first puppy ventured a few cautious, clumsy steps up the ramp, still a little unsure whether he really wanted to go up there. But no sooner was one pup at the top did the others follow, who also wanted to join in the fun – and Avocado, who had bravely gone up first, ran back down the other side. Next stop: a U-turn and then a hop into the ball pit. But before that, a quick check to make sure there isn't any danger lurking. Apple looked on uneasily when her brother went in – everything moved so strangely... but since Avocado didn't sink into the balls, she took the chance.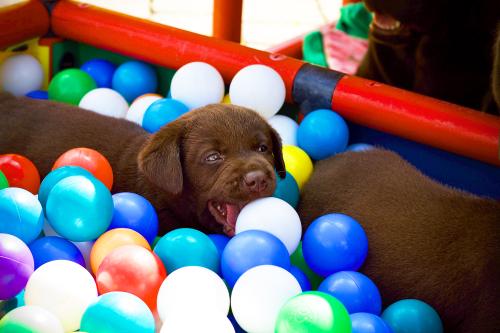 Soon it was clear that the puppies really enjoyed their castle. But more important to André was that they were exposed to different environmental stimuli in it and learned that there was nothing to be afraid of. They didn't need to be afraid of going up and down the ramp. They didn't need to be afraid when things got a bit shaky. And so they developed into confident, happy little dog personalities.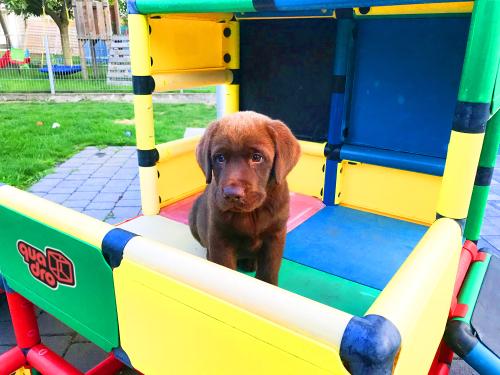 What André didn't know was that QUADRO, in collaboration with Kynologos, the Swiss Society for Applied Behavioral Research in Dogs, had designed a 567-piece "wolf castle" used for puppy imprinting. To find out why imprinting is so important, we spoke with André Weber.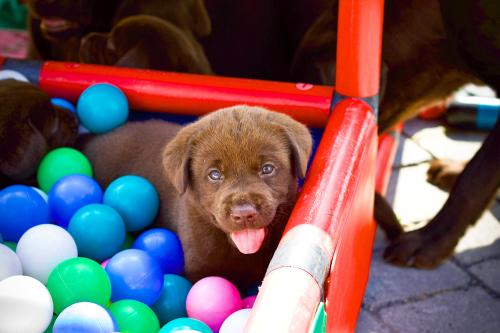 "As a breeder, I belong to the German Kennel Club, a kind of supervisory authority in the field of dog breeding," he explained. Its focus is primarily the health and welfare of the dogs. Both aspects are reviewed on a regular basis. This gives a buyer a kind of seal of approval when buying a puppy – a good way of ensuring that the dog will live a long and happy life. This includes, among other traits, being free of anxiety.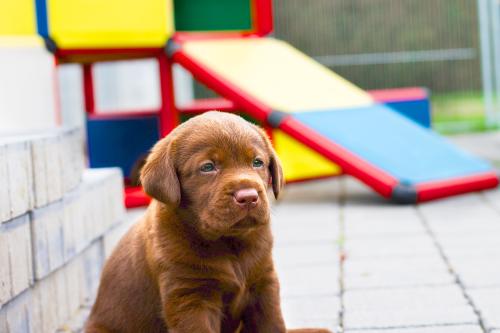 So only one question remains: Why do André's animals have such unusual names? "I didn't want to name them something popular like Bailey or Bella – so there wouldn't be multiple dogs responding to the name at the same time at the park," he explained. That's why he chose names like Tequila and Nacho for his males (who, by the way, would make a good pair at the bar as well 😉). He did decide on one rule when naming the dogs, however: the names of all the dogs from the first litter start with the letter A, like Anton or Apollo. The names of the dogs from the second litter all start with a B, for example Batida de Coco. And each litter that follows gets the next letter of the alphabet. In other countries, people are bit more creative – a breeder from Finland, for example, named all of the dogs in a litter after pop songs. As a result, "Club Can't Handle Me" is both a dog's name and a song by Flo Rida featuring David Guetta. Another litter was named after top models: Linda Evangelista, Sophie Marceau, and Brigitte Bardot – all of whom were, of course, extremely beautiful. André also got a taste for this and named the puppies from his third litter Chopsuey, Chardonnay, and Cannelloni. Whether Stracciatella, Hazelnut, or Chocolate from the ice cream-themed litter, all the dogs had a blast in the puppy castle.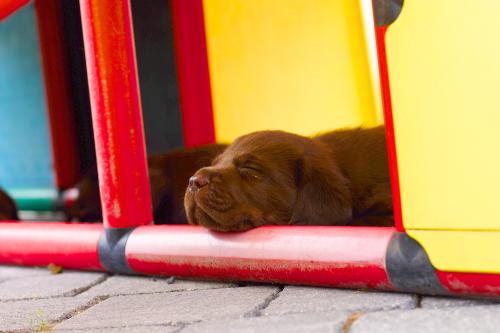 And if you now have the urge to dive into a ball pit – right this way. More information about Andre's company Heddington's Labrador Kennel can be found here. If you want to know more about QUADRO's wolf castle, send us an email to [email protected]
Sources
↑ Ballie Ballerson. Abgerufen am 8. Juni 2021.