This year, Beyond Dance Company built all of its props for the stage out of QUADRO. And for good reason. No, actually, for several good reasons. If you feel like learning how QUADRO and dance go together, just read on. 😊
It all started a few years ago with trainer Dorothee Darsch and five or six kids at a youth center in Hemsbach, near Mannheim. They practiced diligently and danced from time to time at a folk festival. It didn't stop there: The size of the dance group grew and also the level kept rising.
Meanwhile, the troupe appears in TV shows, was German champion a few times and has even participated in a world championship. The girls often start at the age of 3 years with the basics from dance, participate in first performances; then from elementary school they begin with modern dance: contemporary dance, jazz dance, lyrical dance and acrobatics. At this point, they can decide whether they want to stay at hobby level or move to performance level, where training is more frequent and dancers participate in competitions again and again.
Although dancing in itself is a great form of expression, it gets even better with the appropriate props. At first, the dancers and the trainer helped themselves with cardboard constructions, then material from the hardware store was added: plastic drain pipes, for example. These could be plugged together and connected with couplings. Only these constructions did not hold so well and had to be glued - thus the conversion was difficult as well as the transporter.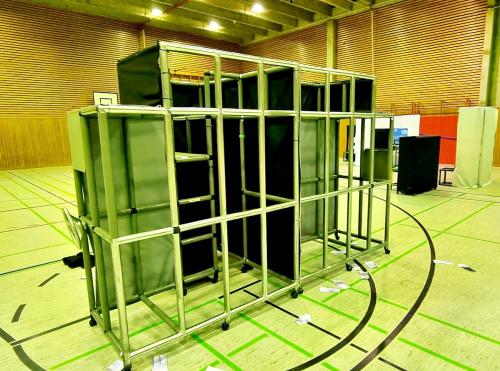 Someday Dorothee stood in the nursery of her sister, who had talked again and again about her climbing frame. But she could not quite imagine it. When she saw the construction, she had her aha moment: it was a QUADRO climbing frame with several levels that reached up to the ceiling. Immediately a thought came into her mind: "Wow! We must build our props from it!"
And so it was: Tables with mirrors were built, a freezer, a giant pirate ship on the occasion of a "Pirates of the Caribbean" performance - with suitable gallows -, a mail car and also a safe. The latter, as it happens sometimes, was robbed by evil villains - the structure turned into a prison in the next stage scene, simply by turning it. And that's how QUADRO ended up in jail.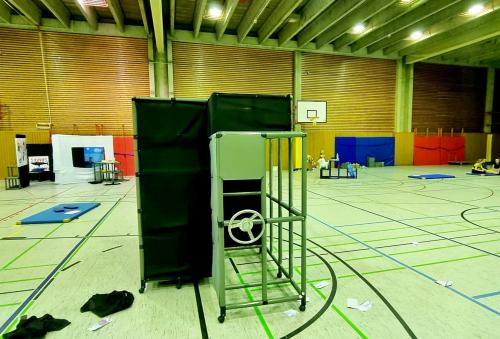 QUADRO props are really handy for dance: on the one hand, they can be adjusted during rehearsals if something doesn't work as intended. On the other hand, the components can be partially or completely disassembled and thus easily transported: Parts of the stage set can be divided among different vehicles.
"Some other dance groups have to rent a truck especially because they use a stage set made of wood, for example," Dorothee tells us.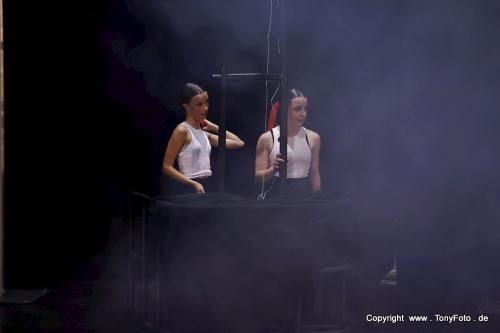 Not so with the Hemsbach dance troupe: only on site the parts are put back together; everyone pitches in, everything can be transported in a space-saving way.
"In the meantime, every parent has their own QUADRO key in their pocket," she says with a laugh.
Everyone has become a QUADRO specialist, and so everyone is involved when the props are rebuilt again and again from dance to dance.
This is how the Beyond Dance Company really acts sustainably. They use the QUADRO parts over and over again: new props are created year after year.
Dorothee adds, "Of course, there is a certain investment at the beginning, but it all pays off over the years through repeated use. Instead of having to buy new again and again, "old" becomes "new" - no problem thanks to the longevity of QUADRO. That would be different with a wooden scaffold, because you could possibly only use that one more time in the dance area, and that's it."
That's why Dorothee doesn't find wood so sustainable after all.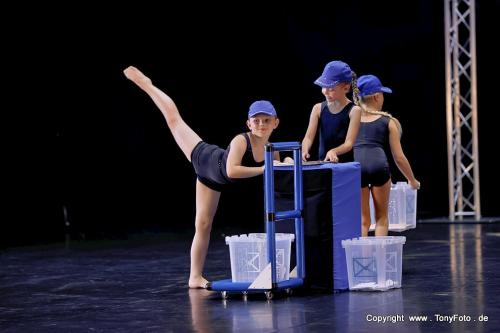 As a trainer, she doesn't have to worry about anything breaking or the kids getting hurt, because the constructions are really stable. The girls can climb on them without any problems. And if something gets lost, the tubes, connectors and other individual parts can be bought separately at comparatively low cost.
QUADRO has another advantage: because you can put rollers underneath it, it is also mobile and can simply be rolled onto the stage by the younger dancers instead of having to be carried laboriously. This is easy on the back and saves energy.
The trainer is really enthusiastic about QUADRO, especially since the home colors are available.
"In the past, we had to spray and cover some of the colorful pipes. Since they're also available in Dark Grey and Pearl White, they fit even better."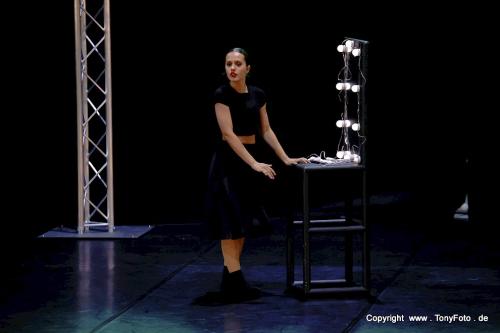 She's already looking forward to sitting down at her PC again and starting to plan the next stage design. She does this with the free QUADRO computer program.
"It's insane how many pieces we have by now," she laughs. "Any mom would be jealous of us."
It's also insane how creative Dorothee is with the QUADRO in her conceptual designs. We say "Hats off!" - and consider getting into the stage business: as a manufacturer of sustainable props. 😉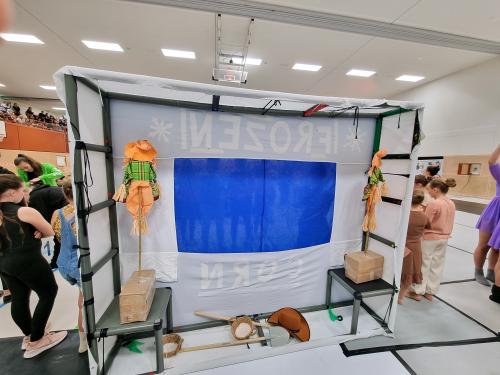 Would you also like to be inspired to (even) more creativity? Then read our detailed article on the topic: "Two plus three is purple".
Or check out the creative project of an American from Switzerland who converted his entire attic into a QUADRO Christmas House.
Do you also have really wacky ideas that you would like to realize with QUADRO? Then send us an email: [email protected]. If we like your ideas, we will be happy to support you with free material or a discount.