About creativity in building and cooking, great role models, colorful jungle gyms and Dad on the slide.
He ends his emails with "Meaty greetings," describes himself as food-crazy and a real family man - and has recently rediscovered QUADRO: That's Flo, and in this article we want to tell you about him and his family.
Flo is equal parts creativity, ingenuity, wackiness and a down-to-earth normalness. So let's start from the back of the list: He got married, bought a house, then came child number one, child number two, finally QUADRO. The normal order of things.
Image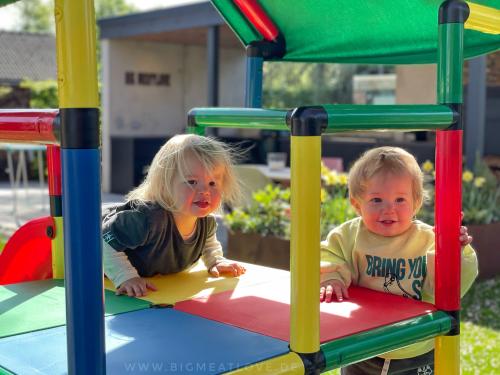 In the spring, the family was in the process of sprucing up the garden. They decided the two kids should get something out of it, too – it was time to get a jungle gym. But the parents didn't want a permanently attached one with giant foundations set in concrete, they wanted something that could simply be put away when they wanted to mow the lawn or use the space for other purposes. 
"What do you think of the colorful scaffolding from back in the day?" his wife Niki asked. "One like I had when I was a kid. It's totally cool. You can always rebuild it and expand it."
Image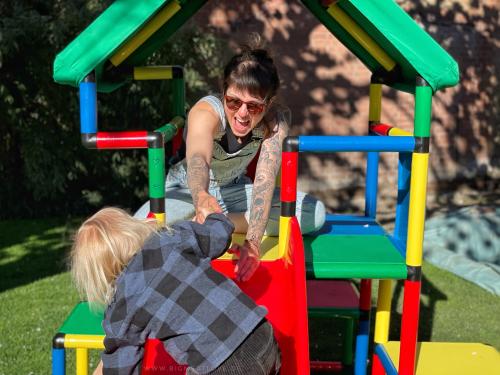 The two of them remembered the name QUADRO, found the online store, rummaged around in it - and quickly became megalomaniacs: Suddenly it wasn't just the construction set, there had to be a slide, too - and preferably in combination with another construction set. And a roof. Like this!
When the packages arrived, the weather outside was lousy. 
"Come on, let's just unpack a cardboard box and build at least a little scaffolding in the house where you can slide," Flo said to his two-year-old son. He simply constructed freely; as a draftsman, he already masters this quite well. And the effect? As soon as the little one got up in the morning, he went into the living room and onto the scaffolding. And then, from morning to night, it was slide up, slide down.
After work, when Flo came home, his son was already running up to meet him: "Dad, you slide, too!" 
Flo just thought: " But will it hold up? After all, he weighed 100 kilos or 220 lbs. But he dared to try it anyway. 
"It holds up!" he said. "Okay, so this thing is really made to last, even if it doesn't look that massive at first glance," was his conclusion. After all, every coupling, every pipe is screwed together again so that the parts are really stable. Thanks to the QUADRO PLUG-IN SYSTEM, assembly is quick. And as Flo quickly found out, it's worth it.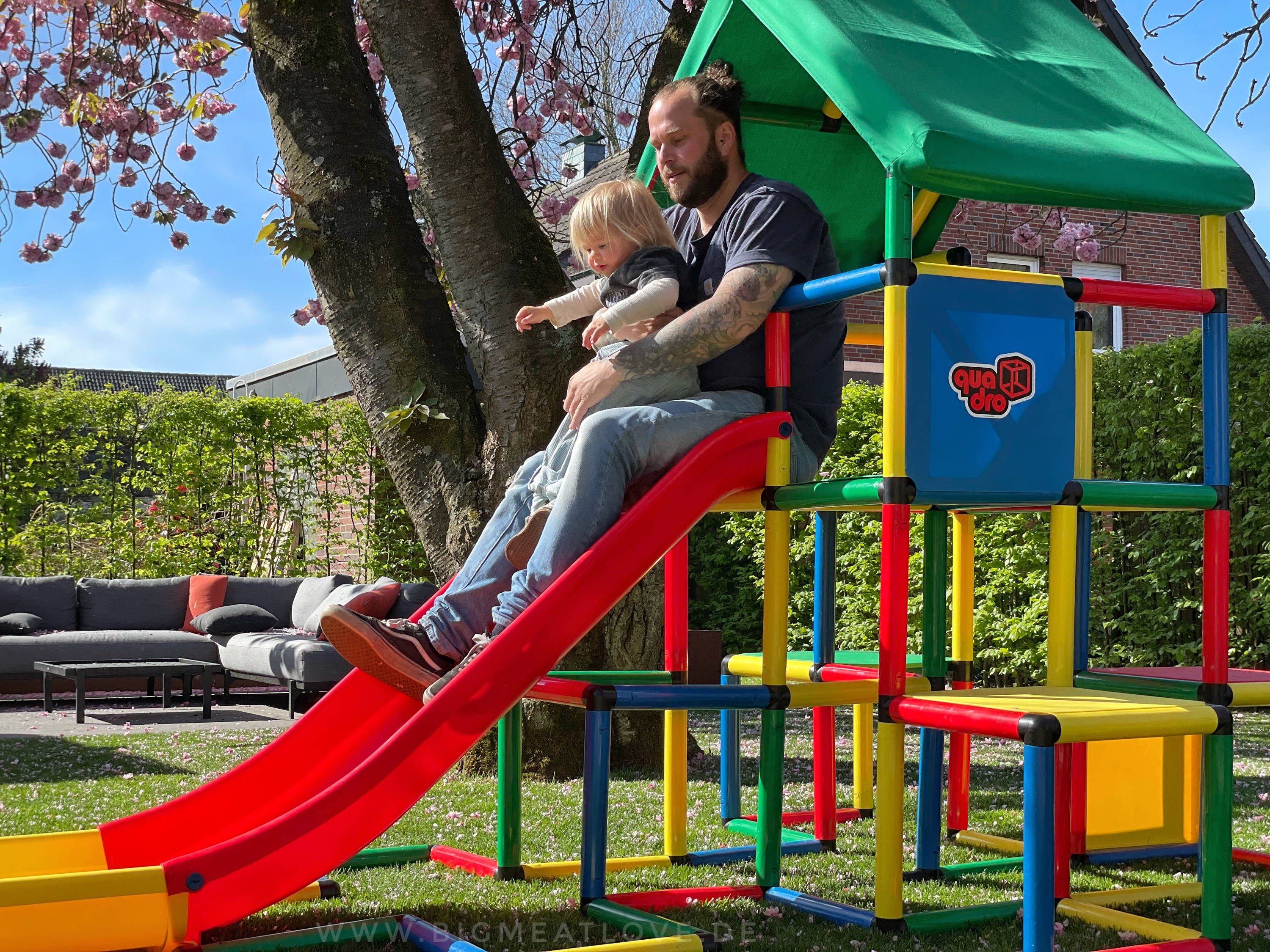 When good weather beckoned, the family couldn't get their jungle gym through the door. No matter! After all, QUADRO can be taken apart and reassembled. Soon there was a real house for the kids in the garden, also with a slide of course. The kiddies have a lot of fun: The bigger one, who is a bit more independent, leads the way, his brother follows. The little one is interested in everything his big brother does. They still slide together, but by following his big brother's lead, the little one will surely manage to slide all by himself by the age of one and a half.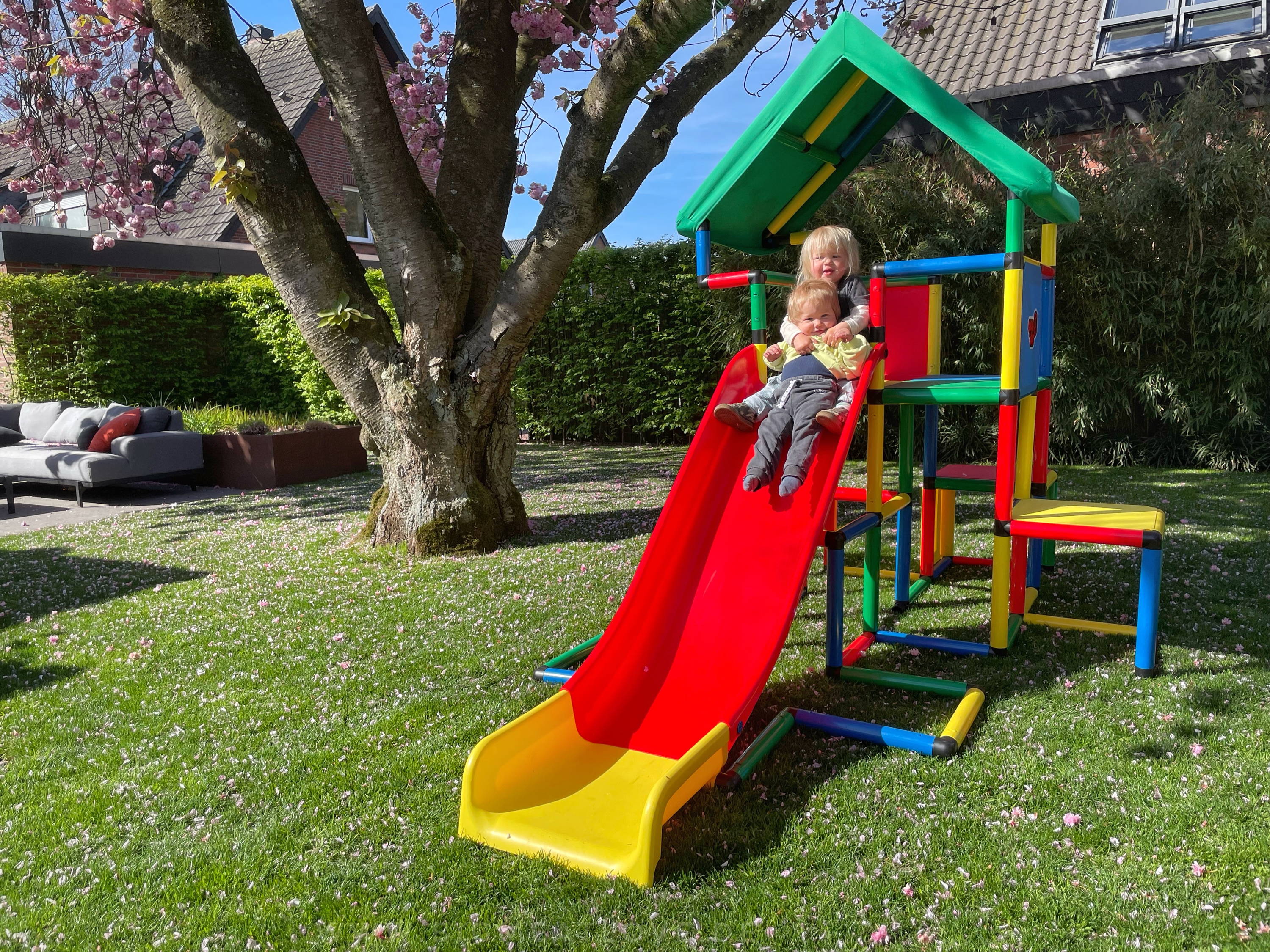 Dad is also happy: he can move the jungle gym depending on the position of the sun and put it on the terrace when he wants to mow the lawn. He already has a few ideas: Maybe you can close a wall here, build a ladder there. The scaffolding will certainly grow. His children will play with it for a long time and eventually have ideas of their own. And then they'll plan wild things together.
He already knows the principle from cooking. There, too, the family usually cooks together, tries out different things and makes a lot of discoveries. It all started with the fact that Flo was a complicated eater as a child – and still is. For example, he hardly ever eats white things: no mayo, no tartar sauce, no cream sauce, no butter. Not because of a food intolerance, but simply because he doesn't like it. As a result, he was very limited in what he could eat. Without further ado, he invented a counter-method: He cooked himself, the way he liked it: lasagna without bechamel sauce, Thai curry without coconut milk - which is actually completely crazy, as he admits himself. This necessity became a virtue, or rather a blog, which is now one of the ten largest barbecue blogs in Germany. Also the Instagram page Bigmeatlove for men who cook (but which also makes women's mouths water). Followers tune in for the friendly family that celebrates food.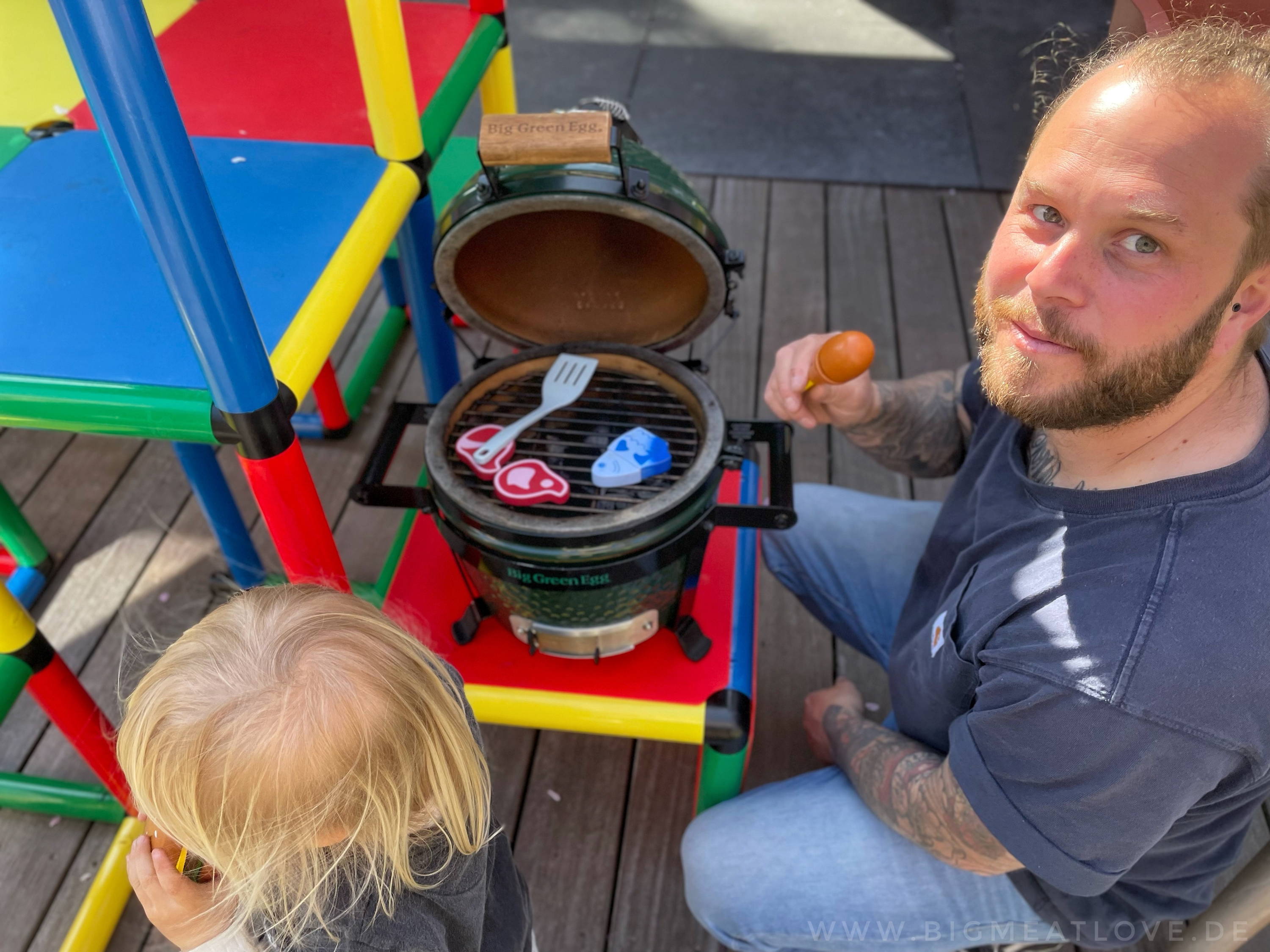 "In Germany, food doesn't get a lot of love. It's not as important here as it is in other countries," says Flo. His wife spent a long time in Spain, where the dining culture is completely different: people get together, sit down together, have a nice evening together. Everything happens at a big table, with the parents, kids, and friends. People don't even have their own plate, everything is on the table for everyone to grab. Meals like this bring people together. Precisely this is what excites Flo and what he lives for.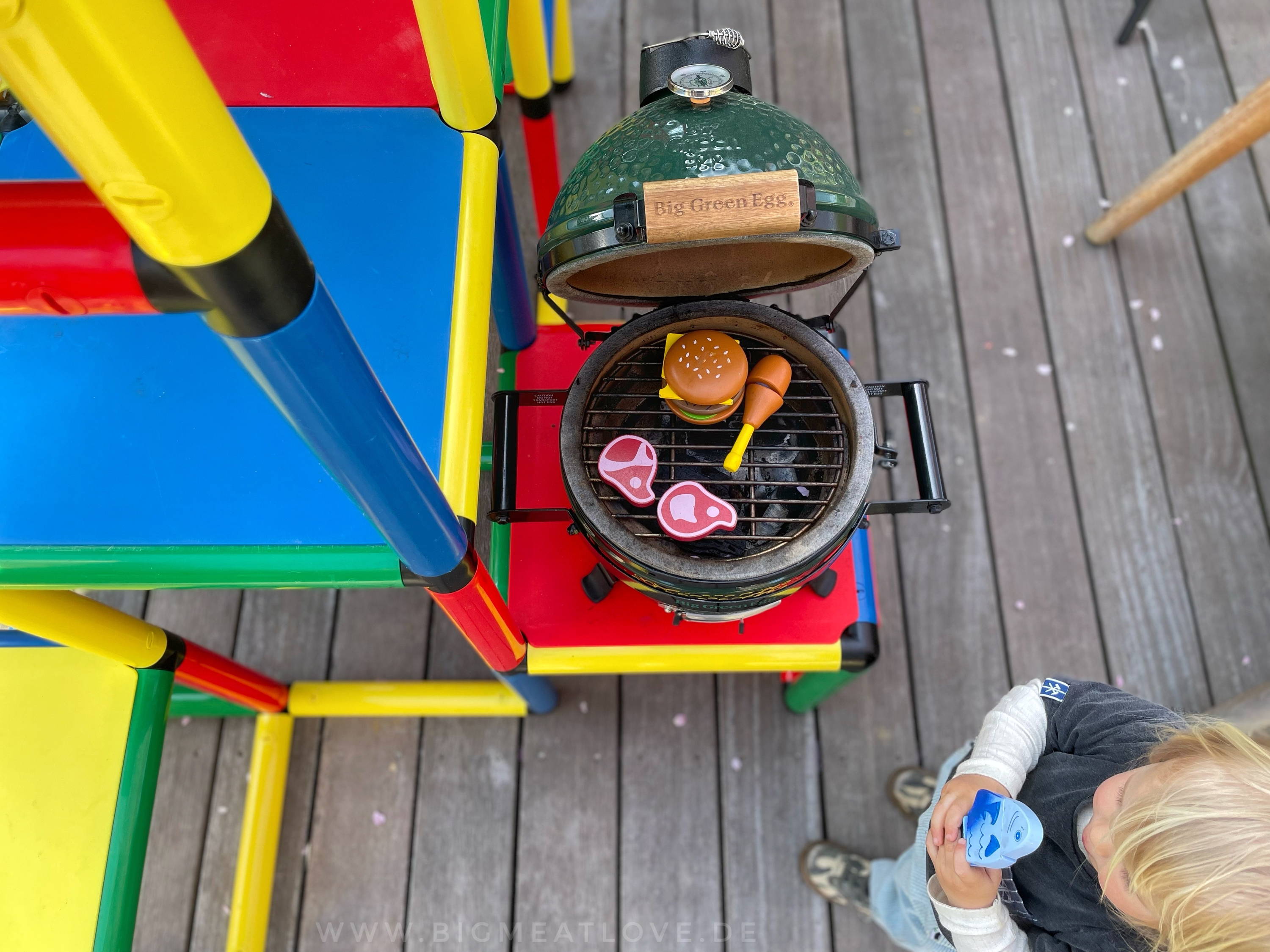 To continue his passion for cooking and eating, he wanted an outdoor kitchen. Not one where you have to run inside to wash your hands, but one where you can stand outside and cook properly: with a refrigerator, hot water for washing your hands, and a heated countertop. That didn't exist in the form it did at the time Flo designed it.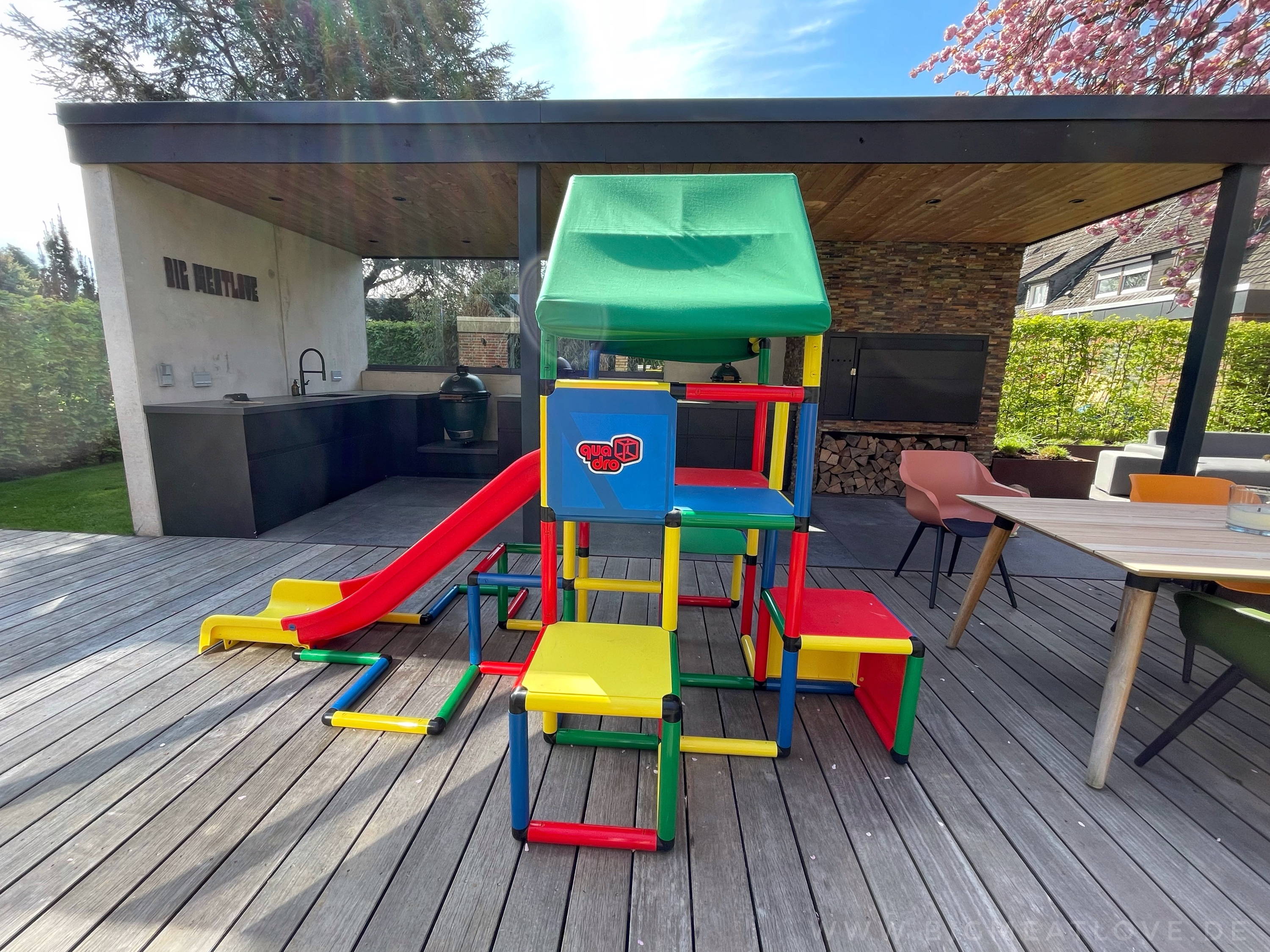 "The kitchen is perfect," he enthuses. "It's my absolute dream kitchen." 
We asked him what his family likes to eat best.
It doesn't take him long to answer: "Pasta! We're all about pasta in all its variety. Even the kids eat it." Thai curry and Vietnamese curry, which he and his wife really like, is too spicy for the kids. 
In that case, bon appétit! And here's wishing the cooking draftsman a load of creative ideas for the next wacky models. Happy sliding to the kids – there they go up the slide and back down again ... 😊
Image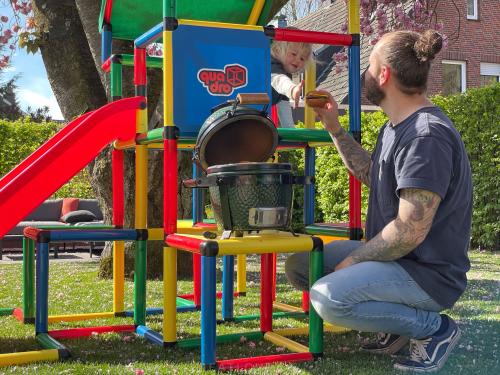 Did you like the article? Have a look at Flo's blog Bigmeatlove (in German).
Image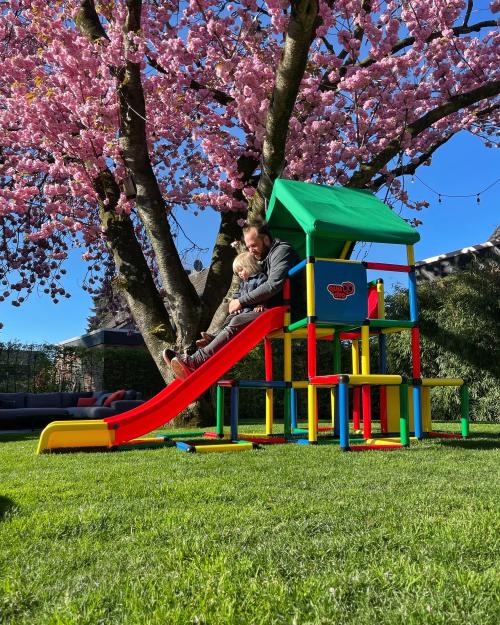 Image