Kerstin's children have always had a soft spot for animals. This passion led them to transform a climbing pyramid and an evolution construction set into a makeshift horse stable. It even features a door, secured by two double-tube connectors, that serve as the gateway to the horse stall. Inside, their cherished wooden horse stands proudly, always ready for a visit.
Eleven-year-old Emily and eight-year-old Fynn may have discovered QUADRO a bit later in their childhood, but their enthusiasm for this inventive toy is undeniable. While younger children benefit from honing their motor skills through climbing and assembling, QUADRO ignites the spark of creativity in older kids and enhances their spatial reasoning. The dynamic duo has already crafted countless creations around their home. So, when the task arose to carve out a spot in the garden for their family dogs, they instantly sprang into action...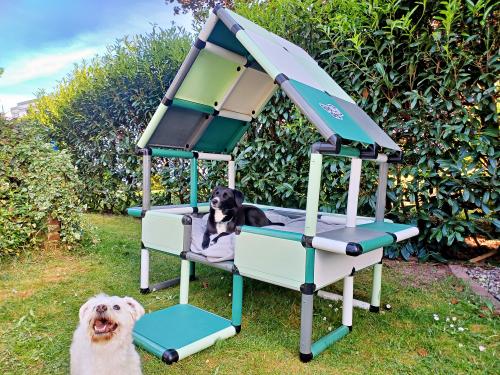 Chumi and Amy, the family's loyal canines, are as much a part of the household as anyone else. Naturally, they enjoy lounging on the garden furniture. But when the whole crew - dad, mom, Emily, and Fynn - come together, space becomes a premium. The dogs often find themselves searching for a comfortable nook.
While the parents contemplated purchasing a wooden doghouse, they recognized its pitfalls. Wood deteriorates rapidly when exposed to the elements, often requiring frequent treatments or paint jobs. Plus, traditional wooden kennels tend to be cramped and aren't easily spruced up with a simple hosing down. They also lack natural light. But QUADRO offers a stark contrast: their designs are spacious, easily maintained, and bathed in natural light.
This insight inspired the children to construct a custom QUADRO shelter.
Wasting no time, the siblings teamed up with their mother, Kerstin, to design an exquisite mint-green doghouse using the QUADRO computer program. Once erected, this shelter not only provides Chumi and Amy refuge from the blistering sun but also keeps them in the loop with family happenings.
But it's not just the dogs who've taken a liking to this new space. The kids, too, frequently cozy up inside alongside their furry friends. Whether Emily is narrating a tale (though Chumi and Amy seem more intrigued by mom's garden activities) or Fynn is sharing a moment, the QUADRO hut has become a cherished family hub.
And the dogs? They're simply ecstatic to have a space they can call their own, especially with such delightful companionship.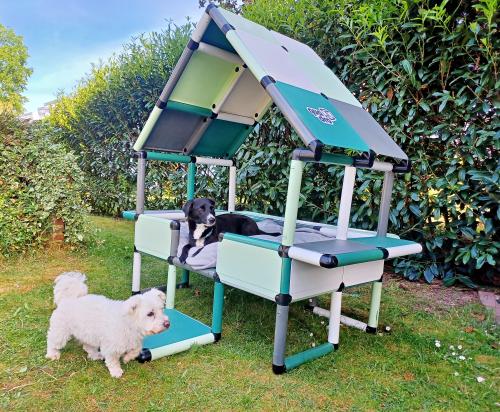 Got a unique vision you'd love to bring to life with QUADRO? Drop us a line at [email protected]. If your ideas resonate with us, we might just surprise you with complimentary materials or a special discount.