Christmas in America ... The house and the garage are richly decorated and hung with colorful lights. The snowman with his carrot nose, warming scarf and black hat stands in front of the window and peers into the house: the family has gathered around the kitchen table, Dad is inside making fresh waffles for everyone. Mom is showing friends who are just visiting with their children the Christmas-themed movie theater room with its silver garlands. The decorated Christmas tree is in the corner, waiting for the presents. The socks are hanging ready, the nutcrackers are also lined up. The fireplace is warm and cozy; Santa Claus has made himself comfortable there. - But wait a minute!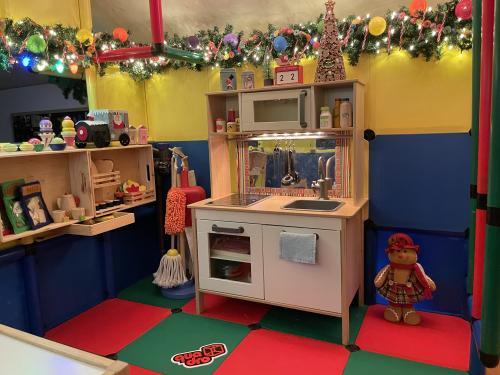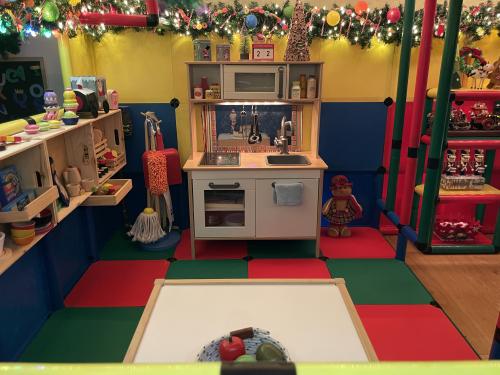 We are not in America at all! But in Switzerland. In Graubünden, to be exact, where Dillon lives with his family - and wanted to show his children how Christmas is celebrated in his home country. He built a real Christmas house. Made of QUADRO. It even makes us wonder.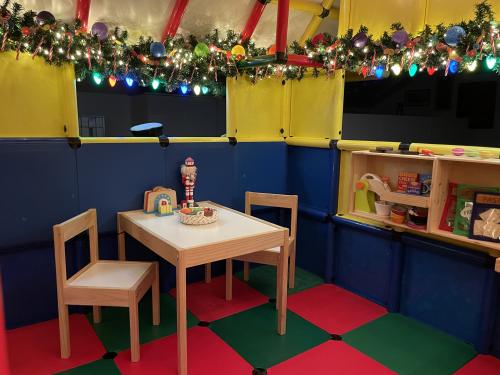 He was inspired by Disneyland in California as he lived near there for years and was there often. It was clear to him that his house had to be built from QUADRO parts. And that it needed some planning. So he started working on it as early as July: Over the years, he had not only bought a few construction kits, but also collected used parts here and there - anything he could get his hands on. He had even individual parts from the early 80s. However, he was missing some special parts that were not yet available in Switzerland: short tubes as couch feet for the cinema room, for example. Or for the stairs leading to the upper floor of the Christmas cottage. He wrote to us - and we of course helped out with free individual parts, because - just like his two children Sophia and Francis - we were eager to see the result.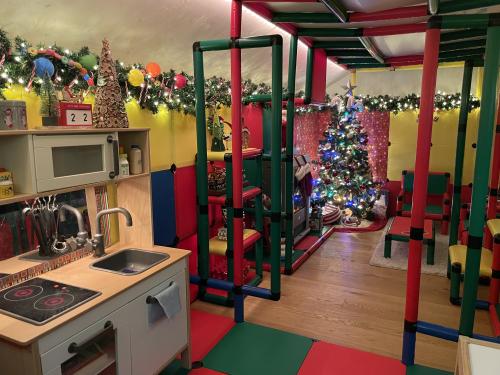 The result is a spacious Christmas House, which can easily accommodate four adults and four children. Well, if one of the adults is two meters high, he has to bend down a little, but all the others can stand well in the basement.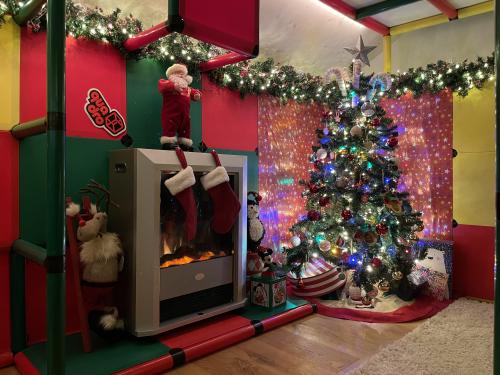 The kids are thrilled, running inside the house, playing with their friends in the different areas, stepping onto the balcony, running downstairs and out again. And in the evenings, they sit as a family in the movie loft and watch Christmas movies together - in fact, Dillon only brings out the TV at Christmastime to keep the shared viewing experience special. The cottage as a whole is packed with technology, including an audio surround system that makes the movie experience even more authentic. Whereby the high-tech is cleverly hidden behind the garlands.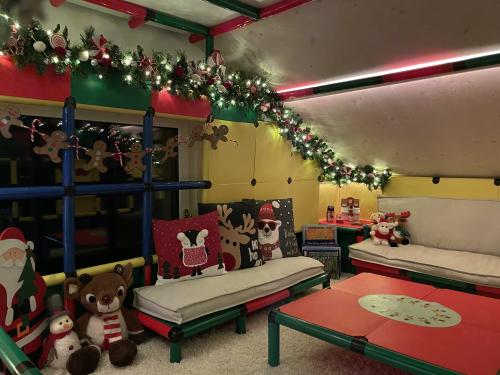 The checkerboard floor in the kitchen is reinforced with additional QUADRO pipes so that as many people, big and small, can fit in it at once. But there is also the entrance door. It is only one panel wide.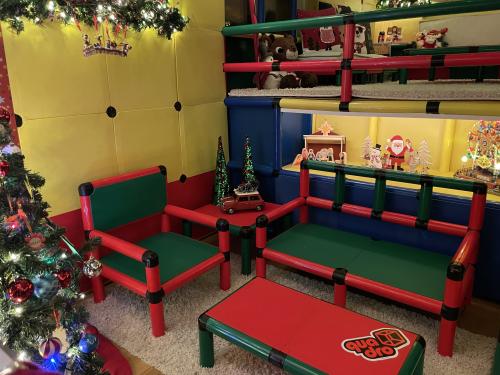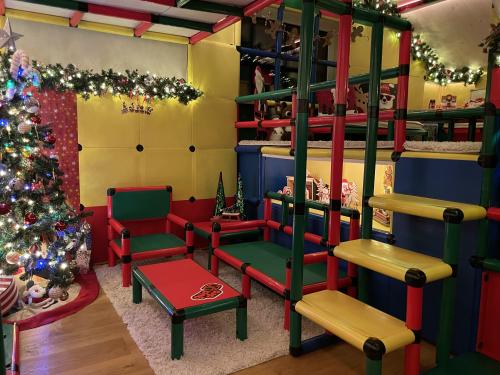 "I built it for the kids!", Dillon then says with a laugh to his adult visitors. Because the little ones get along great with it.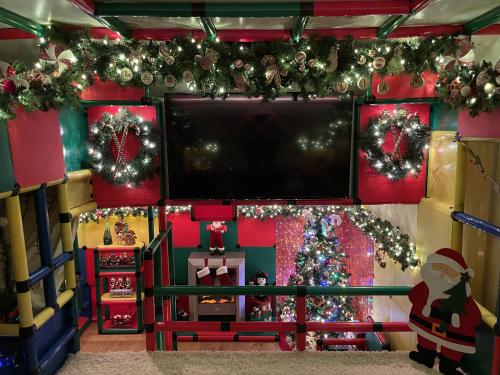 As a kid, Dillon had used something similar to Quadro, only with a real problem: It kept falling apart when he climbed on it. Kind of awkward ... That's why he's so glad he's since come across the original. Everything actually holds here. And for years, as the old pipes and plates from his collection prove it.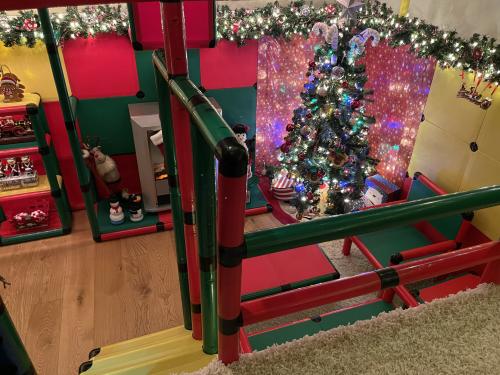 Dillon is glad that he was able to establish a piece of tradition from America in his new home. He knew his children would be thrilled. And so he, too, doesn't miss the cosmopolitan cities of Los Angeles and San Diego quite as much anymore.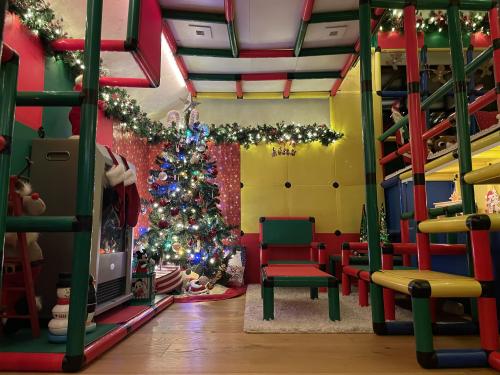 We wish all readers of the QUADRO blog, all families and all children a great Christmas: gifts that make the eyes light up, delicious food, beautiful walks in the crystal clear air and many wonderful experiences with the family.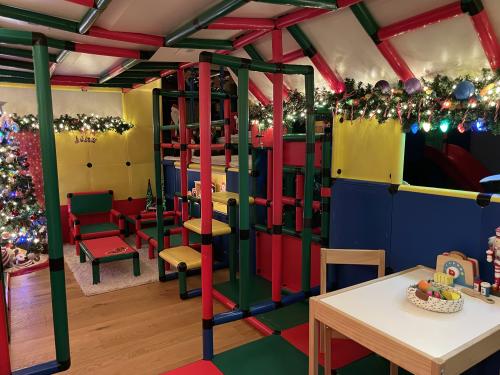 Or as Dillon would say, "Merry Christmas everyone!"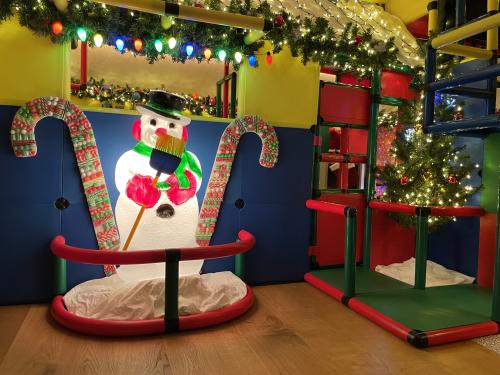 Do you also have a great idea and want to be supported by us? Then write to us anytime at [email protected]. We look forward to hearing from you.