When Nina Witte took over the space in Kaarst to hold her parent/baby group courses there, she found a QUADRO Bällebad from the 1980s behind a wall. Right away, it occurred to her to have a look in the QUADRO model database. She found the images of QUADRO appealing and she quickly noticed that she still needed something else for her courses. We weren't surprised when we heard about the Bällebad from the 80s because many of our products are used for several decades. 
No planned obsolescence

Because our products are so durable and, if properly taken care of, they can be used over several decades and generations, it's not unusual for a QUADRO Bällebad to last for 40 years without being damaged. Even if the pool film can no longer be used, it can be replaced with a current version. The other parts have the same features as the parts available today. This guarantees compatibility across half a century and makes QUADRO a unique toy product. Learn more in our article about jungle gyms in the "Family" section.
Because we liked the concept of Nina's baby and child courses, we provided her with two Evolution construction kits for the project, valued at about 700 euros, so she could integrate them into her play concepts together with the QUADRO Bällebad.
As a result, two structures were built which can be used with three different groups of children: Very young children who start attending at 3 months of age must first get used to having the jungle gyms in the room. Those who can already crawl can scramble around on the structures. Those who are starting to walk can pull themselves up on it – and all kinds of options are available to toddlers who are already confident with moving around. Different starting heights for climbing and various levels ensure that there's something here for everyone.
Cost savings

QUADRO shines in this area and its strengths make it the ultimate attraction here. One of the most important features is that it can simply be rebuilt after 2 or 3 months to give the kids something entirely new to explore. Instead of buying a new model, with QUADRO you can simply modify it – that saves money and preserves the environment.
Nina offers courses for three different age groups because children have varying needs depending on how old they are. Even in the baby group in which the participants are very young children up to age one, there are really big jumps in development. 
"There's no way to meet the needs of children in various stages of development when they differ so greatly in terms of age," notes Nina. "In addition, at some point they become bored with the baby group. Then it's time for new challenges that correspond with their abilities." Then they just work together to build a new model. 
For Nina, a safe play environment is important – a space in which the little kids can move around according to their own abilities and develop in their own ways. This reduces the likelihood that parents must intervene. In a safe play environment – because QUADRO doesn't have any sharp edges or corners and it can be used to build platforms and shapes adapted to the children's abilities – the tots can enjoy a playing experience that is as safe as possible. Moreover, it makes for relaxed and reassured Moms and Dads. J
Then the kids can start to explore for themselves. They have space and time to try everything out and to gain confidence in what they can do. At the beginning it's enough to have a safe place to lie on the floor. Here they first discover their hands and feet. Soon they start to roll over and at some point they end up on their bellies, which means their hands are free and they can use them to grasp objects and practice their hand-eye coordination. Later they can make larger movements.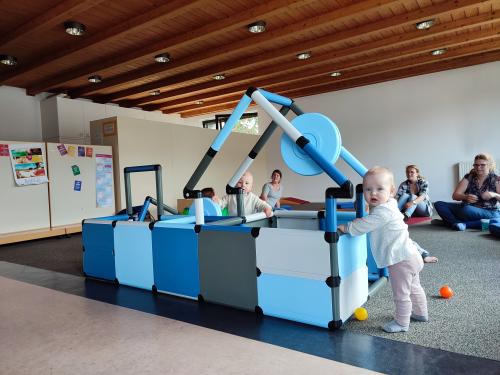 As soon as the little ones want to find out about some new attraction, the world around them is no longer as important. They try things out to their hearts' content – which promotes the development of their fine motor skills and athletic abilities. And not only that: When they are able to crawl, they can pull themselves up onto a small step. If they can use their arms to reach down to the floor from there, they can often get down again all by themselves. But before they can do that, they first have to learn what depth means. When they climb down this small step, they can sense how high it was. This experience teaches them how to estimate if it's about 20 to 25 cm from the sofa down to the floor or if it's really half a meter.
Toddlers have no fear when they're trying things out; they already know instinctively which heights they can just about handle and which they just can't quite manage yet. Besides, their parents are with them on these first adventures, giving their children that incredibly important basic sense of trust.
When parents allow their children to take these small risks within a controlled environment, the kids quickly gain self-confidence and are enthusiastic about doing things for themselves. That shapes the later lives of these little ones and helps their parents to give their children the important tools that they'll need later to be able to make the right decisions for themselves independently (for more about why climbing is so important for children, read this article: "Jungle Gyms: The Perfect Way to Give Your Children's Development a Boost").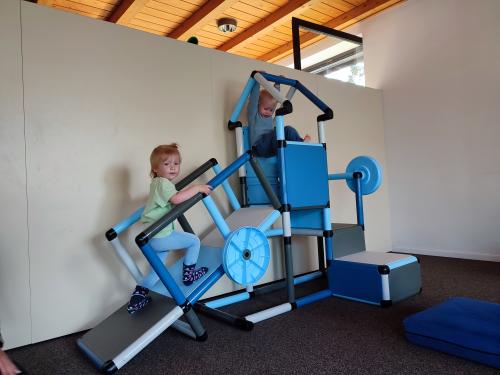 Incidentally, these adventures result in unbelievably proud parents, who will continue to be amazed in the first 1,000 days of their children's lives about how capable their little tots are and how fast they learn.
"We adults tend to do things for children because we think that it's still too difficult for them. Or because we believe that the children can't do it yet," Nina explains. "But when we allow them to discover things on their own, they experience things quite differently." If an adult is there when children are playing, that person is automatically the leader: The children participate and maybe have expectations regarding the leader's role. At the same time, they are training their mirror neurons and pay attention to the leader's instructions. However, the adult should only intervene if the situation becomes truly dangerous.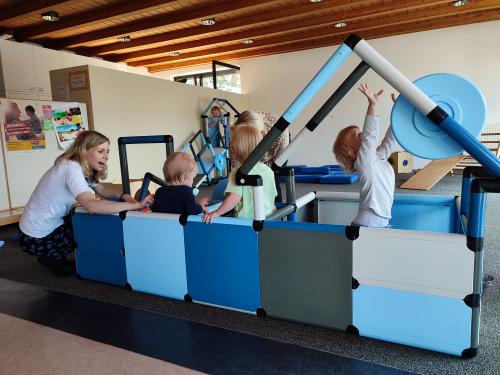 When kids are playing, they often forget about the rest of the world around them. Then they play and practice and learn non-stop. Adults are often astonished in this case how high-spirited and uninhibited and full of energy their children are as they play.
The influences on Nina's pedagogy, among others, include the book "Lasst mir Zeit" ["Give me time"] by Emmi Pikler, a Hungarian doctor who worked in the area of infant education. In her teaching in Kaarst, Nina gives children enough time for self-development, she lets them learn at their own pace, and she watches them as they try things out again and again with an amazing amount of patience.
This is the advice she gives new parents: "If you have time, there's nothing finer than allowing your children to do things themselves. The advantage here as well is that they become independent quite early on – and as parents, this means less stress for us."
She especially likes the QUADRO Home series: "I like the low-key colors. They work well with our dark carpeting and the light-colored walls." She also likes QUADRO's versatility: If children play with a structure over a long period, at some point they lose interest. Then Nina rebuilds it to create something new, something exciting for the children to discover and conquer. 
In turn, the little kids discover the QUADRO models again and again! At the time the photos were taken, they rolled various items down the ramps and couldn't get enough of it. Even the parents that come to the courses are excited – many of them were only familiar with the QUADRO in their yards. 
In Kaarst they're entirely pleased with the QUADRO construction kits. Nina's courses are very popular, and currently, they're completely booked. That's why she doesn't even have to advertise them. But she's looking forward to welcoming new world explorers to her movement groups, so she can show them the two QUADRO play towers.
And who knows? Maybe these two models will soon be converted into a climbing labyrinth play tower with a ramp. With QUADRO, imagination knows no limits. 😊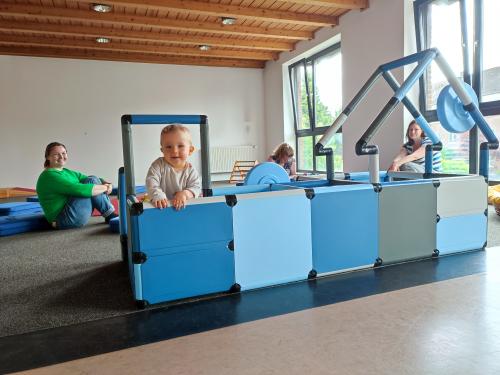 Do you like Nina's pedagogical concept? The you'll certainly also be interested in our article "Learning for Life – A Look at Education Based on Montessori Principles," which is coming out soon.