For the past few months, we've been working on some exciting gardening-related projects under the project name "Quadro Goes Garden." How did we come up with the idea, you ask? In fact, QUADRO and gardening have quite a few things in common – read on to learn more.
Sustainability is THE hot topic nowadays. We humans have recognized that our resources are finite, and we're embracing an idea that was formulated by Hans Carl von Carlowitz three hundred years ago. He namely said that you should only cut down as many trees in a forest as will grow back in the foreseeable future – and referred to this as sustainability. In this way, he wanted to ensure that the ecosystem remained stable. In the meantime, the UN has also formulated 17 "Sustainable Development Goals," all of which address the future of our planet.
In the course of this new sustainability movement, another trend has emerged that also isn't new in and of itself: urban gardening, i.e., growing vegetables in urban areas for personal consumption. In the past, it was common for a house to have a large plot of land to grow food on. Due to the lack of space, however, the yards became smaller and smaller over time, meaning that at some point, growing food became impossible. But the numerous community gardens that exist all over the country still bear witness to people's desire to have their own garden. Those who don't have access to a community garden but still want to grow their own vegetables have begun to improvise. Little by little, urban gardens have sprung up – plants hang in pots from building facades, green spaces are planted on the roofs of apartment buildings, and some people even turn their balconies into their own little oases.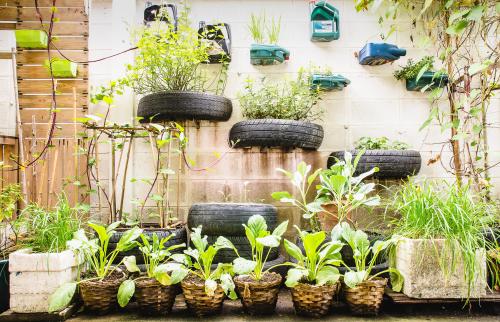 Part of this "back to the basics" trend is also about placing a greater emphasis on family life, as the focus is increasingly on families that are self-sufficient. And that, of course, is where QUADRO comes in. But what is sustainable about QUADRO, you may ask. The answer: everything.
Here's a brief overview of why QUADRO is so environmentally friendly and sustainable:
QUADRO says no to planned obsolescence (you can read more about this here).
Our products don't just last for one generation, they last for several. Due to its modular design, QUADRO can be taken apart and assembled again and again. This ensures that your kids will enjoy it for years and years.
Normally, you buy each toy for your kids new. This isn't necessary with QUADRO, because you can build on what you already have. QUADRO grows with your children from the age of 6 months until they are 8 years old or older. This saves you from having to buy a bunch of other new toys.
Unlike many products, QUADRO can be used everywhere, both indoors and out. Because we use high-density materials, QUADRO doesn't absorb water or odors. During cooler weather, all you need to do is clean your QUADRO set with plenty of water or a little dishwashing liquid and then bring it inside and set it up on the carpet in your child's room without having to worry about it about leaving stains or emitting an unpleasant odor.
The materials that QUADRO is made out of come from the food packaging sector. This means that they not only withstand particularly low and very high temperatures, but they also have zero harmful effects on your children (recycling codes 5 and 2) and are both indestructible and extremely durable. As a result, your QUADRO is sure to last for generations.
QUADRO is more sustainable than any toy made of wood that was obtained as cheaply as possible by clearing a forest and is then treated with preservatives to withstand the elements. Additional additives don't need to be applied to QUADRO parts so that they can withstand inclement weather – if you use QUADRO outdoors, it won't rot and it won't get moldy either.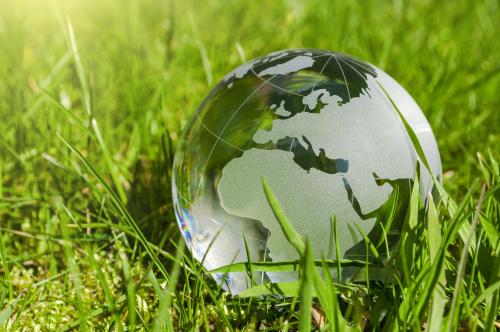 But after all that, you still have no idea why you're reading this article about sustainability and urban gardening on our blog. And you know what? We want to keep you on the edge of your seat a little longer. When the time comes, you'll see that we took QUADRO's sustainability ethos to the next level and got even more ambitious when it came to being innovative – and that we actually practice what we preach in our articles and implement in our products. We can reveal one thing now, though: it's going to be green, very green. And tasty. And will teach the little ones a thing or two. And... sorry, you'll have to wait just a little bit longer. But don't worry – we'll be pulling back the curtain in no time. And we can hardly wait ourselves.
Did you know…

…that green roofs and walls lower the temperature inside the building? In fact, by anywhere from 39 to 52 degrees! Whereby the effect is stronger in very hot cities than in those with moderate temperatures. And it also cools down the surroundings somewhat, because green surfaces don't get as hot and as a result, radiate less heat. In addition, plants release water into their environment, which also cools the air.[1]
Did the article really make you want to find out more about everything green? Then have a look at our in-depth piece on the subject of "Urban Gardening".
↑ Catherine Brahic. 'Green roofs' could cool warming cities. NewScientist, 28.09.2007